Adding Colour to Kitchens
Making over your kitchen is a great idea. We've all heard that "great kitchens sell houses" but more importantly; we spend a lot of time in our kitchens every day. Having a lovely space to work in makes meal preparation that much more pleasant. And for kitchens that double as social and eating spaces – why wouldn't you want to make the most of it as a great space to share with family and friends?
One of the best and easiest ways to update your kitchen is to add a little colour. Check out our ideas and get inspired with some of these quick and easy solutions.
Paint
Paint. One of the most versatile solutions for updating any room. Our Dulux range of paints literally includes thousands of colours – so there is definitely a perfect match for your style, your existing fixtures and the mood you want to create.
The only cautionary with paint is to ensure you buy a kitchen-friendly product. Dulux Wash&Wear + Kitchen and Bathroom Low Sheen is ideal. Made with hard wearing, stain and mark resistant 101 Barrier Technology and fortified with a powerful mould inhibitor, it provides ultimate washability and lasting protection. That means easier clean-up for spills and splashes, and painted surfaces that will easily tolerate the wet and steamy conditions from sinks, stovetops and ovens.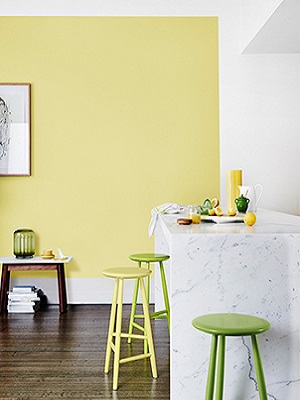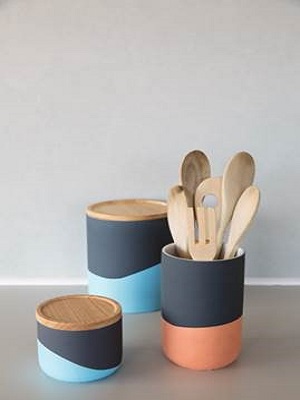 Yellow Kitchen: Image supplied by Dulux. Colour used on wall is Dulux Southbridge.
CHALKBOARD PAINT
Chalkboard paint takes the idea one step further. And with Dulux's new colour range you don't have to settle for Henry Ford's famous choice of "so long as it's black". While black chalkboard paint is a classic option that can be used for dramatic effect; you can now choose between nine new colour options to co-ordinate with the rest of your kitchen decor to add functionality and interest.
And if you want to take the concept even further – check out our black magnetic chalkboard spray paint by Dulux! Perfect for keeping those notes and shopping lists in one place.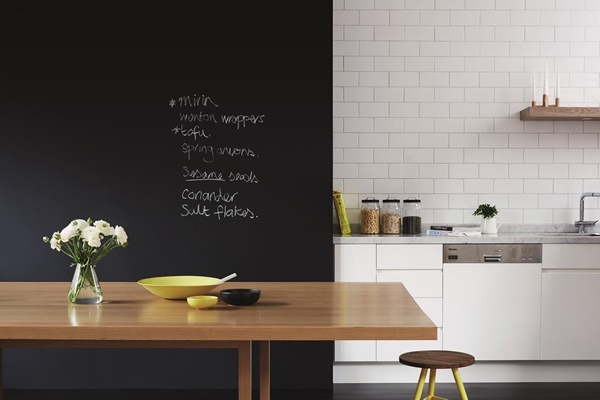 Chalkboard wall image supplied by Dulux.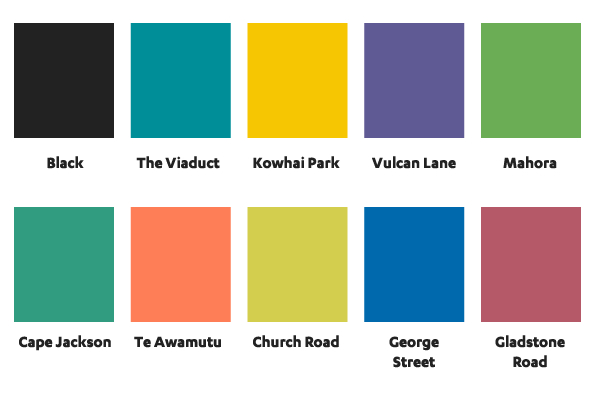 WALLPAPER & WALLPAPER PANELS
Wallpapers give you even more options. Just as for paint; you need to choose a product that has good washability for any spills or splashes. It is also best to pick one with a smooth surface vs. one that has a lot of texture or special features (glitter, flock, etc.) because dust and grease can get trapped, making them harder to keep clean.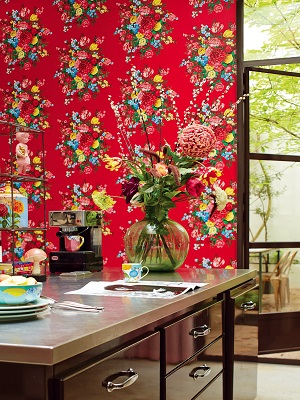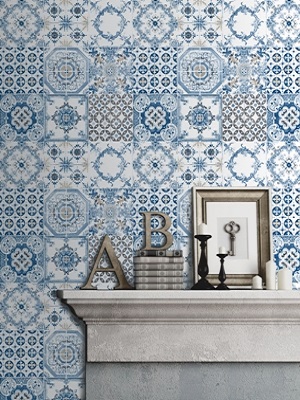 Red floral wallpaper is from the 'PiP Studio' wallpaper range.
Blue tile look wallpaper is from the 'Replik' wallpaper range.
You could also consider adding a feature element with wallpaper in another any part of your kitchen, from inside cupboards to a whole feature wall. If you do want to use wallpaper in any areas which are likely to need more regular cleaning (e.g. for a stylish splashback), having a piece of glass or similar installed over the top is a great idea.
And if you hate the thought of tiling but love the look of tiles; wallpaper panels are a brilliant solution. They come in a variety of patterns and colours from traditional to modern including realistic looking tiles, food / drink themes (e.g. coffee cups), inspirational messages and a variety of stunning backdrops.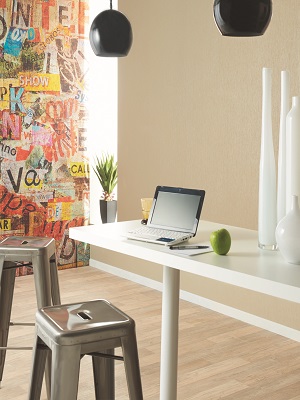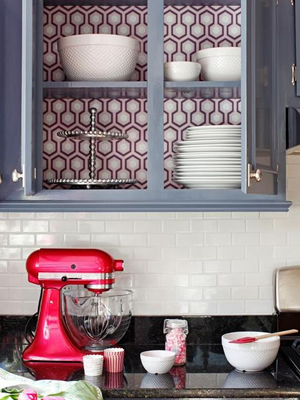 Wallpaper panel is from our exclusive 'Trendy Panel' range. Wallpapered cupboards image sourced from Pinterest.
Accents or Overhaul – Your Choice!
Paint, chalkboard paint and wallpapers give you so much choice. You can overhaul your kitchen completely, or just use these options as accents or finishing touches. Dipping canisters in paint is an incredibly easy and cost-effective way of bringing colour into your kitchen (and perfect for keeping those utensils handy too). Or you might consider lining your cupboards with wallpaper as an extra gorgeous detail that will make putting the dishes away, just a little less ordinary every day.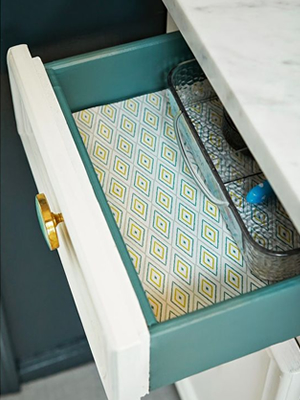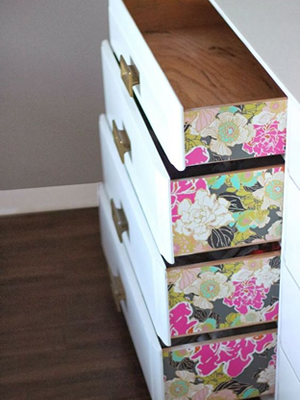 Wallpapered bottom of drawers image sourced from
Pinterest
. Wallpapered side of drawers image sourced from
Pinterest
.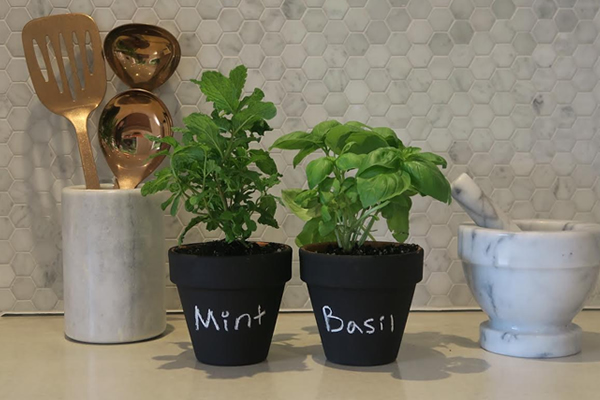 Image supplied by Dulux.
Get Inspired
Talk to us about the best ways to update your space. Guthrie Bowron staff provide expert advice and have some great products to make your job easier. Just pop in-store and talk to our friendly team to find the perfect combination of colour and treatment.