Curtains - The Inside Track
Not only are curtains great at keeping the warmth of the day in and the cooler night air out; they can set a new mood for your room.
Whether you want to create a welcoming resort style feel or a cosy nest when heading into Winter – curtains are an essential element. Our curtain fabrics and treatments come in a huge range so the perfect pattern and price is just waiting on your inspiration.
So check out this 'inside track' on curtains with everything you need to know and then pop in and have a chat with our friendly team.
Types of curtain treatments
Different curtain types create different moods within a space, so here's your quick guide to the curtain treatments.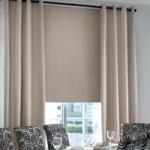 EYELET CURTAINS
Eyelet curtains have a metal or metallic eyelet at the top. They're usually hung on a metal rod for a minimalistic and modern look and feel. Eyelet curtains typically have deep folds when pushed back so they often work best with plain fabrics.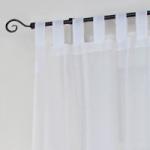 TAP TOP CURTAINS
Tab top curtains use fabric tabs to hang from a curtain pole. They're not as easy to pull along a rod, so are best for rooms or window treatments (e.g. sheers or voiles) which you don't intend to open or close often. They suit lightweight fabrics that drape easily and give a casual, relaxed feel.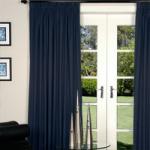 PENCIL PLEATING
Pencil pleat curtains are one of the most common treatments with evenly spaced, narrow pleats pulled together with a drawstring on the window side of the fabric. It's one of the most versatile curtain treatments, ideal for prints and plainer patterns in loose or tight pleat styles.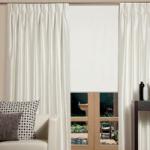 FRENCH PLEATING / TRIPLE PINCH PLEAT
French pleating (triple pinch pleat) is where groups of triple pleats are spaced evenly along the curtain. They create a formal look which stacks neatly to the side so they're great for a formal dining room or lounge, as well as with windows without much surrounding wall space.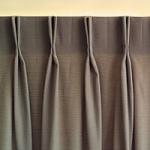 DUTCH PLEATING / DOUBLE PINCH PLEAT
Dutch pleating (double pinch pleats) are less formal that French pleating and so are more versatile for a range of looks from traditional to casual. It works well with prints and is outstanding with textured plain fabrics.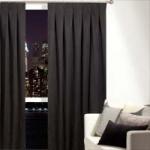 INVERTED PLEAT
This style uses a single, inverted pleat at regular intervals which also means it requires less fabric than other curtain treatments. It's a modern and sophisticated look that stacks easily when drawn. Textured, high sheen and woven fabrics can look amazing.
Curtain heading imagery provided by Maurice Kain.
Types of curtain linings
Linings aren't just for keeping light out or warmth in, they also protect your curtains and give them a longer life. Only a few of the many lining options available are listed below. Have a chat to our knowledgeable team about exactly what is right for you.
SUN FILTER/SHEERS
Under New Zealand's harsh UV conditions, curtains that face the sun can fade quickly. A sun filter/sheer will help protect your curtains and keep them looking great for longer.
THERMAL LININGS
Thermal linings help you keep the heat out in Summer and the warmth in during Winter (or at night). They come in a variety of specifications and as always, quality will last longer.
BLOCK OUT LININGS
Block out linings are designed to block out the most amount of light and give you the most amount of privacy. Again, there are different specifications depending on the needs of your room.
Types of curtain fabric
There is a huge variety of patterns, textures and weights that suit different types of curtain treatments. Below is a guide to some different options, and how they can best be used.
PRINTS
Print fabrics give you so many options from European lux to bright and fun kid's prints, and make a real statement in your room. A good idea is to pick an accent colour to highlight your curtains and give your room a designed look and feel.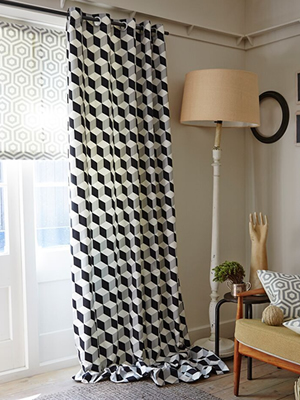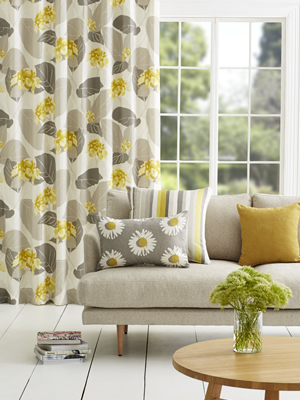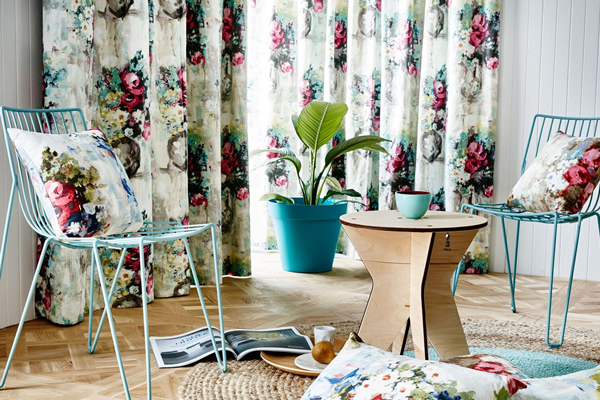 Black and Grey Fabric - Collection: Geometry from Pegasus, Design: Cube, Colour: Jet
Yellow and Grey Fabric - Design: Monaco from Warwick, Colour: Chartreuse
Multi Coloured Fabric - Design: Parklane from Sekers, Colour: Dorchester
PLAINS
Plain fabrics are very popular and provide less of a showcase than prints. However, they also come in a variety of textures and sheens to create a statement and lift your room, without overly dominating the rest of your décor.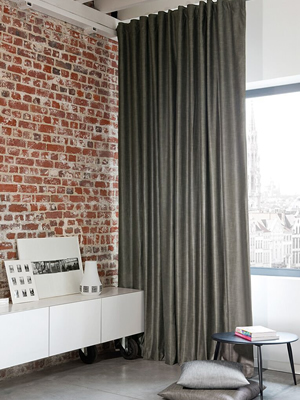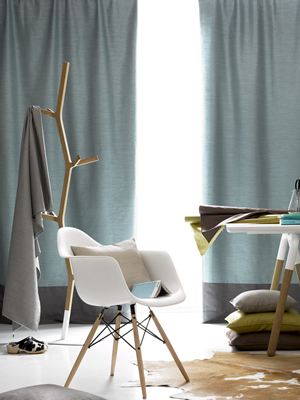 Dark Grey Fabric - Design: Palazzo from Pegasus
Blue Fabric - Design: Inventa from Maurice Kain, Colour: Sea Spray
DECORATIVE
Decorative fabrics have the design woven into the cloth, and are available in a wide range of both colour and design. They add colour and texture to a space and can make a fantastic statement.
Curtain and cushion fabrics - Design: Anya and Primo from Maurice Kain
SHEERS & VOILES
Sheers are translucent whereas Voiles are usually semi-transparent using a heavier weave or additional texture. Both are great for their light diffusing properties and look fabulous in a double curtain arrangement where a heavier, second curtain will give you privacy.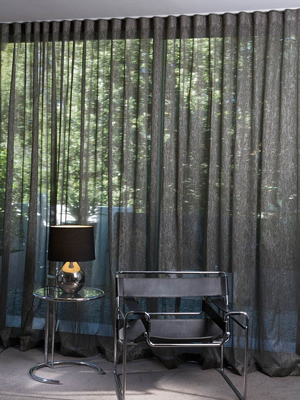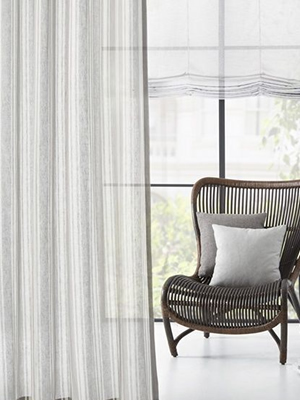 Black Fabric - Design: Glimmer from Pegasus, Colour: Pewter
Light Fabric - Collection: Elliot from Warwick, Design: Ellery
COATED FABRICS
Some fabrics are available coated, which means they already have a backing applied which can help them block out light. Often a lining is not required with a coated fabric.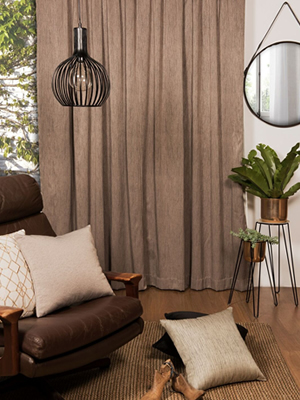 Get inspired
We have a wide range of curtain fabrics available. Just pop in-store and talk to our friendly team who will help you find the perfect combination of treatment, fabric and lining and to work best with your ideas.