How to Design It Yourself (DIY)
When it comes to renovations there is a new DIY - design it yourself, bringing that kiwi can do spirit to renovating with creativity and ingenuity. When Caleb and I first started renovating in 2010 design decisions were limited, if you wanted to bring design into your home it came with a significant price tag from a boutique store, you sourced it from overseas or had to have elements custom made. I am so glad times have changed for renovators and the choices are endless from colours. Now this sounds like a great thing – until you are asked, what style of you going for? Do you want to keep the heritage of the house, modernize it or do a bit of both? Are you going to bring in colour? What features do you want to do? What do you want on the floor? This is where designing becomes overwhelming.
When you are overwhelmed, it is easy to make design decisions based on what the most common choice or what is on trend. It is a safe way to design, but it also means you are not making choices based on your personal style, in reflection of the home you have or with the vision of what you want your home to be. Creativity inspires creativity, so rather than getting overwhelmed by all of my options, I allow them to inspire my design and start the decision-making process. Guthrie Bowron is the perfect store to visually explore when you first start renovating. Within one store you have access to colour scheming designs, feature wall inspiration, window dressings and flooring options. In this creative process, I collect samples for what will be my Guthrie Bowron Renovation Moodboard.
Tips to make sample selections for your Guthrie Bowron Renovation Moodboard:
I love colour therefore I start my inspiration process in the paint area, looking through the colours available. Browsing through colour shouldn't be rushed, consider what strong colours excite you and what neutral colours compliment those colours. The colour you bring into your house will create a mood or feeling, so pick up a sample colour and reflect – how does this colour make me feel? As colours stand out, take various colour samples as you continue to browse through the store.
Remember: Colour scheming doesn't mean choosing the colour for your walls, it means selecting a scheme that will be reflected in every element of your home: fabrics, cabinetry, flooring, furniture, lighting and décor.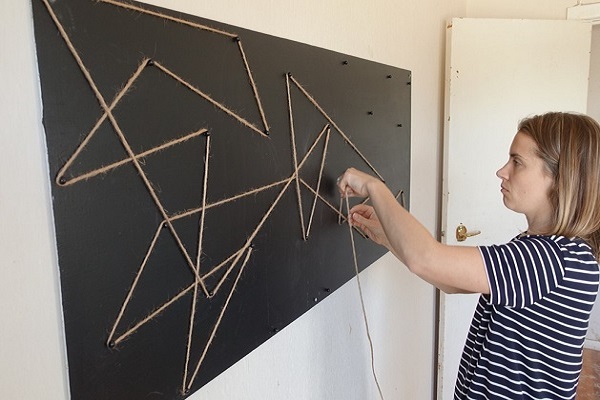 Once I have selected various colours that I am considering, I will take those samples through to the flooring area. The flooring will be present in every area of the house, and therefore needs to work alongside my colour scheme. When you are selecting a flooring colour, I would suggest doing the opposite of the wall colour in terms tone. If I am selecting strong white for my walls, I will go for a medium or a dark tone for my flooring. Having contrast in the flooring colour brings depth to my design visually.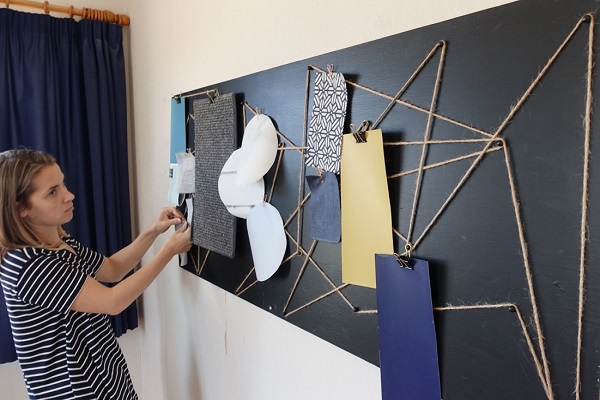 Tip: When selecting flooring colour from in-store samples I will always place the sample on the ground. That is the way you will view the colour once it is laid and the sample will look different on the floor as opposed to hanging on the wall or on a display. After paint and flooring, my next stop is the curtain area of Guthrie Bowron – it is normally this point I lose Caleb if he is with me! I could spend hours browsing through fabrics but this process, I don't need to. I have a strong idea of what my colour scheme will look like and therefore my colour selection will be within that scheme for fabrics. It is here where I will consider texture and pattern, it isn't about making a final decision of what sort of blind or curtain I will have, it is simply about finding some elements that inspire me and work within the mood board I am creating.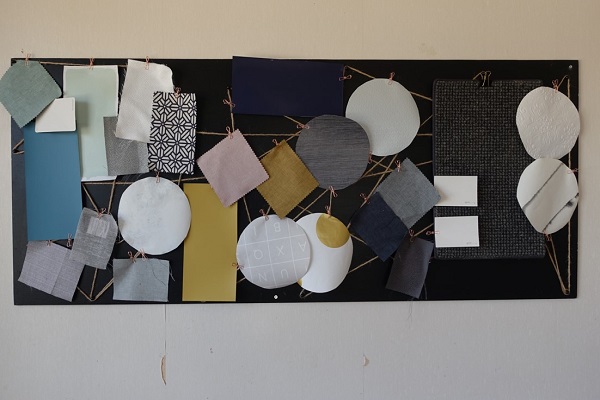 Finally, I brave the dramatic and eye-catching area that is wallpaper section! Now while the range would feel overwhelming with hundreds of wallpaper books, it is made focussed with tones and hues that will fit with my mood board look. Maybe at this point I haven't explored much texture, wallpaper is a stunning way of bringing texture into a home.
Throughout this process I am not aiming to have just one scheme for the house, but have colour schemes and textures that work together for various rooms in the house. Guthrie Bowron is the perfect place to explore my design options, they offer expert advice, inspiration and guidance from their friendly staff members. I take advantage of their knowledge of products to help in my selection process. And here is what I love, one store visit to Guthrie Bowron has supplied me with inspiration, advice and samples I need to create a mood board that makes me feel equipped and vision filled for the design decisions ahead.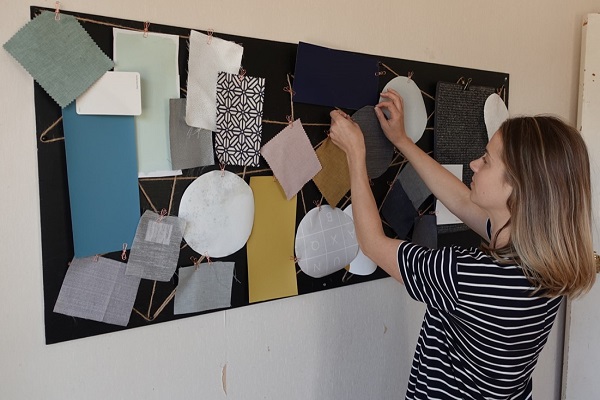 It is that easy to start a DIY, design it yourself process by creating a Guthrie Bowron Renovation Moodboard, so why not create your own!