Biophilic Design
As the daylight hours lengthen and the temperatures rise, it's natural to feel a blooming desire to fling open our windows and let the light and warmth of spring into our homes. The technical design term for this impulse is 'biophilia'. In its most simple form, biophilia refers to humanity's innate connection with nature. We feel this intuitive connection most powerfully during spring, when our cloistered winter has come to an end. Because of this, biophilic design is the main trend for Spring/Summer '21.
Through biophilic design we dissolve the divide between the natural and built environment, connecting with nature whilst still inside our home. This is especially effective during the pandemic, as our use of interior design can be a remarkable antidote to the current reality of spending more time in our homes.
Before we focus on particular elements of biophilic design, it's important to understand biophilia in everyday terms. As human beings we have evolved from nature, and our connection with nature is essential for everyday wellbeing. This begins with the fundamentals of drinking clean water, breathing fresh air, and eating nourishing foods. Biophilia goes further than this though. It is why a walk through the bush feels so restorative, why the sound of rain comforts, why animal companionship is so widely adopted, and why a trip to the countryside can spur creativity. We crave these connections with nature, both as a daily ritual and a restorative retreat. Biophilic design seeks to bring these innate emotions to the forefront of our lived experience.
Biophilic design has been proven to decrease stress, improve mood, and enhance overall physical and mental wellbeing. Whether or not your home has also become your place of work, I think we can all agree that less stress and more wellbeing is exactly what we are all craving as we transition from a cold covid winter into the warmer months.
Nature in The Space
Nature in the space is the first tool of biophilic design. It's as simple as it sounds, and you are probably doing it already in many different ways: flowers, pets, botanical prints. Even opening the windows to let a warm breeze through is technically biophilic design. Doesn't it feel wonderful to have that warm fresh air move through the house after a long winter of keeping things closed and cosy? So although biophilic design is important at all times throughout the year, it is the transition from winter to spring that it is most effective.
By picking fresh spring flowers to decorate your space with or waking up earlier with the lengthening light, we are connecting with natural transition from winter to spring. The more we can bring this connection into our homes the more we will begin to embody this transition, lifting our mood and energy as we do so.
Indoor plants are the simplest and most effective way to bring more nature into our home (without relying upon a lovely warm spring wind). Biophilia reminds us that it's actually on the stormy days that we most appreciate the vase of flowers we picked when the weather was nice.
To add a level of finesse to your selection of house plants, it's important to choose the right vessel to hold the plant. Here, we can double up on biophilic design by choosing a stone or clay vessel, in a natural tone, to celebrate the beauty of nature.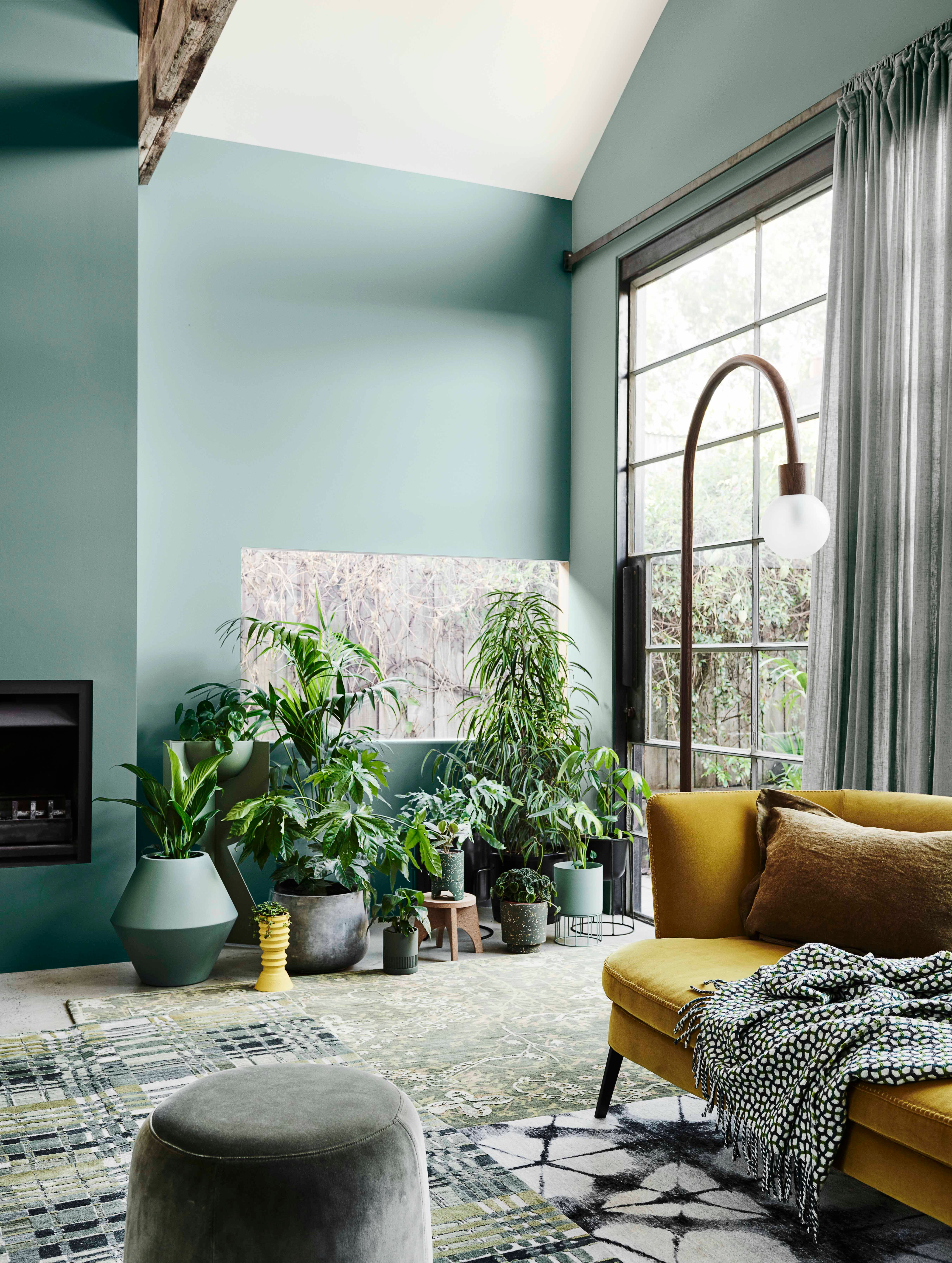 Image credit: Wall (left) Dulux® Hancock, wall (right) Dulux® Pencarrow. Styling: Bree Leech, Photographer: Lisa Cohen.
Natural Analogues
Natural analogues are non-living aspects of nature that we can incorporate into our interior spaces. A clear example of this is a centrepiece dining table that celebrates the natural complexity of the timber without concealing it. Another example is fabrics that echo nature with floral or herbal motifs like James Dunlop's Waterlily, or Warwick's Elsie.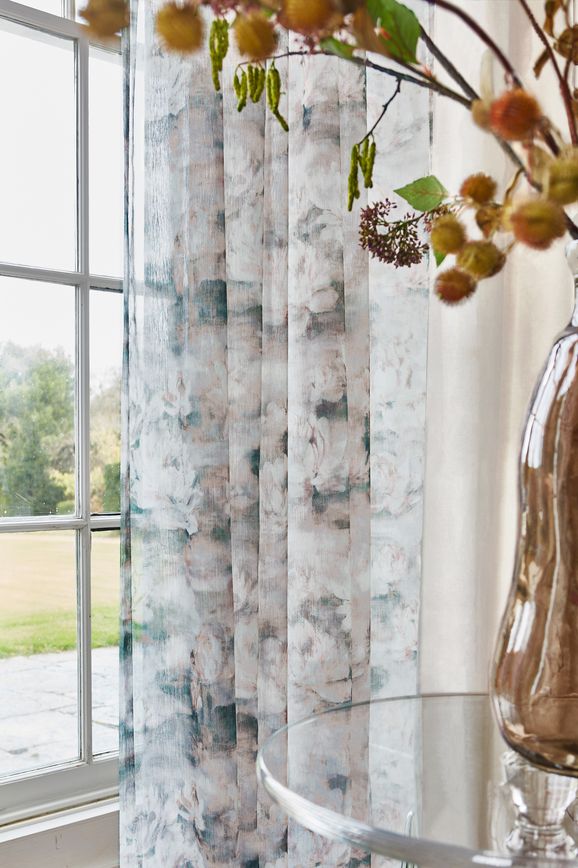 Image credit: Waterlily, James Dunlop Textiles.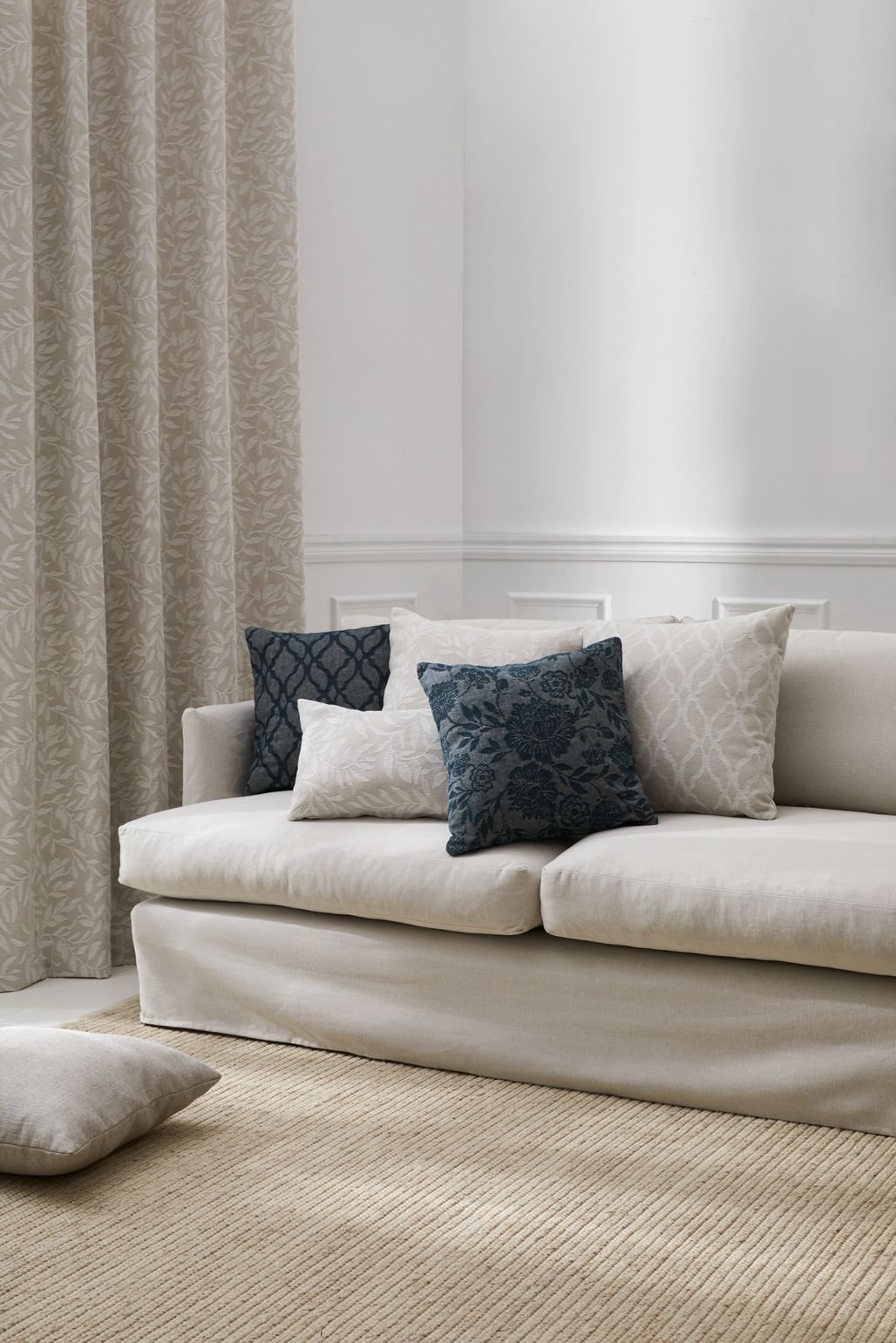 Image credit: Drapery fabric is Frances Ivory from the Elsie Collection by Warwick Fabrics.
In some instances our use of natural analogues can be much even more subtle. It's no coincidence that within the Dulux Colours of New Zealand range are shades that represent our most majestic locations. Hues such as Heaphy Track, North Cape, Lake Waikaremoana and Cardrona are natural analogues of their environment, evoking the mood and memory of the place.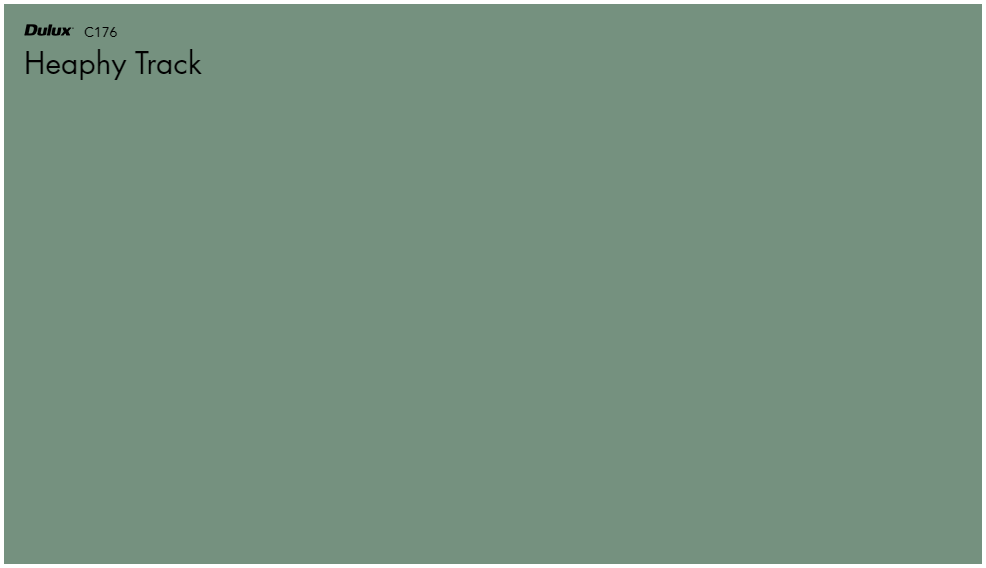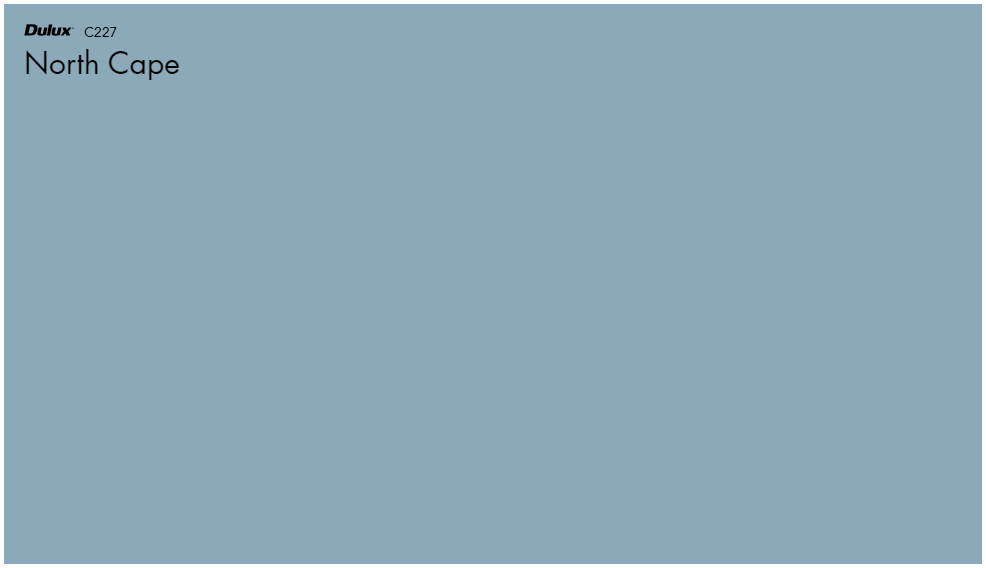 These interior elements are an analogue of its occurrence in nature. The wooden table is an analogue of the tree, and we can therefore better understand it's provenance and our connection with it. These analogues remind us that we are more closely connected to nature than the stress of our modern lives makes it seem.
Nature of The Space
Finally, the nature of the space requires us to get a bit more philosophical. We must question deeply what the space inherently is, and what we would like it's 'nature' to be. For example, if we have a room with a great vista over long-distance, that should be incorporated into the nature of the space. The view influences that experience of that space, and should be reflected in the design too: a place for contemplation, enjoyment and sharing.

Alternatively, perhaps the windows of our space are filled with abundant foliage or a particular array of native plants. Instead of viewing these features as 'external', biophilic design encourages us to blur the boundary between indoor and outdoor, human and natural. Therefore, in a room that is surrounded by native bush, perhaps the nature of the indoor space is best suited as a place of refuge and comfort.
It's a personal decision as to how you interpret the nature of the space, but remember not to become fixated on simply the interior. Despite it being called 'interior' design, the distinct features of our locale are hugely relevant to a tasteful and coherent space that feels beautifully integrated with its local environment.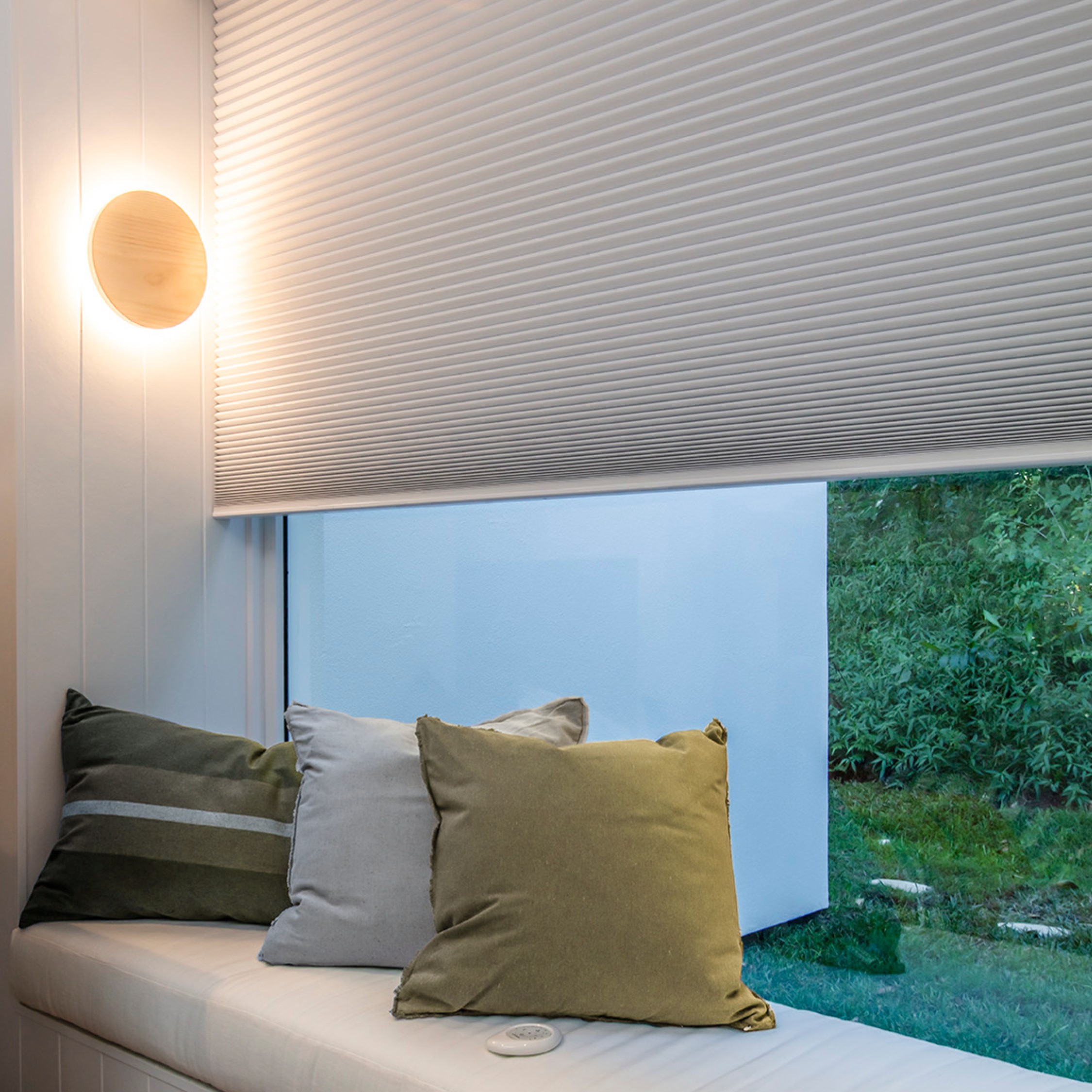 Image credit: Luxaflex® Duette® shade
Article by:
Lou Stringer
Founder + Director, Said Studio.

@_saidstudio
saidstudio.co.nz