Colour Schemes - Lighter or Darker Tones
Learn how to create an interior environment perfect for the winter months using either a lighter or darker colour scheme.
Mood 1 - Lighter Tones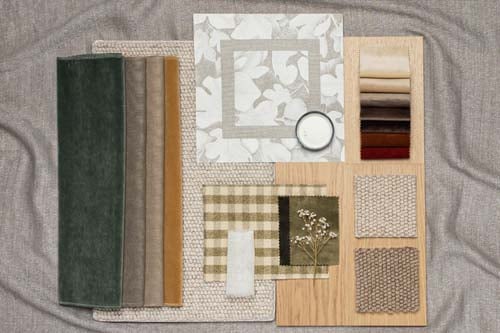 Inspired by Dulux's Colour Forecast 'Nourish', the softness of tone and texture in this palette create a naturally comforting aesthetic. We look to emulate the soothing colours of the natural world in our own homes.

For this palette, we started with an engineered timber floor in a classic tone like Belgotex Matrix Acoustic Riveria Oak 1240, alongside a luxurious chunky loop carpet, for a warm and uncomplicated starting point. By establishing this foundation of liveable neutral hues it provides a timeless backdrop for seasonal updates.

By utilising softer colours as the main shades throughout your home, look to gold and green for beautiful highlights. Hints of rust add warmth while the gentle layering of greens reinforces our connection to nature. This is especially important when we are forced indoors by erratic weather and low daylight hours.

The softness of colour and pattern in Khrôma's Kent Ficus Mastic wallpaper can strengthen the connection to nature in your home without being overpowering. When set against ripplefold curtains, the pairing soothes and encourages moments of stillness. A touch of freshness from Dulux's Marton can provide an uplifting contrast to the abundance of earthy neutrals.

Texture plays as important a role as colour. Wools, velvets and heavier linens have a weight and tactility to them that encourages us to gather around a crackling fireplace and settle in for the season. Warwick's Theodora + Mystere velvet ranges paired with a linen such as Warwick's Haven provides this tactility.

Through thoughtful layering of materials, colours and patterns you can build a sensational palette that nurtures and nourishes. Whether through new upholstery for that favourite armchair, sumptuous curtains to envelop and support the room, or layered in cushions. Whatever the expression, it will endow your space with a soothing sumptuousness to warm your heart through winter.
Mood 2 - Darker Tones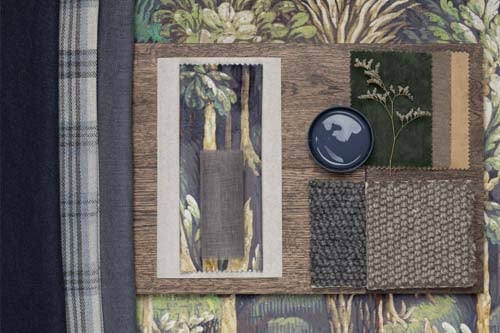 As the days become shorter we feel a need to turn inwards and get cosy. We seek warmth and comfort by reaching for darker colours in our fashion, food and wine. This applies to our homes too.

Warwick's Botanicals Mayabunder Ebony is the catalyst for this palette. A versatile short nap velvet, it is suitable for drapery and domestic upholstery. There is a beautiful balance here between darker tones and playful splashes of colour and pattern.

Deep slate-like blues and warm neutrals shine with the natural luminosity of velvet. Finished with a botanical motif, this fabric really conveys a sense of warmth and optimism that is so nourishing in the cooler months.

The deeper tones in this fabric lend themselves to a darker foundation. Polyflor Brown Mystique Wood 2519 engineered oak flooring is a great place to start. The texture and colour in the timber provides richness and sophistication that, when paired with tonal shades of blue, create peaceful spaces perfect for a winter sanctuary. Here, Dulux's Whanagroa, Warwick's Haven Indigo, Ashley Wilde's Blair Sky and Warwick's Haven Bluestone have been employed to create that sense of calm. When juxtaposed against the botanical motifs, either through drapery, upholstery or soft furnishings, these materials give a sophisticated balance to the palette.

Subtle accents of green, tan, mustard and burgundy in Mayabunder add a warmth that ensures the stormy blues don't leave the space too cool. Draw these colours out further through the use of Warwick's Theodora Thyme, Haven Sage or Mystere Butternut.

Feel free to utilise the soft grey in Khrôma's CLR022 Lys Clay wallpaper to add a contemporary touch that lifts the earthy neutrals.

In our winter shelter we crave colours that make us dream of warmer days, and this palette certainly evokes that. A gentle reminder that it's not always cold, and that warmer seasons are just around the corner.


Lou Stringer
Founder + Director, Said Studio.

@_saidstudio
saidstudio.co.nz