Painted Glass
Painted glass ornaments are right on trend right now; from mason jars, vases, bottles (in all shapes and sizes) through to candle holders and even everyday drinking glasses – all can be transformed into your own piece of art. Whether you prefer a simple elegant metallic touch or want to jump onto a full on colour trend –painted glass adds finesse and your unique style to any room.
CREATING A CLUSTER OF INTERNALLY PAINTED OBJECT D'ART
This look is almost limitless and so easy to do – simply pour your choice of paint into your choice of vessels and roll the vessel around until the inside is completely covered. Once dry, it's good to go with your colour shining through the glass. Step it up a notch by choosing one dominant colour and painting a series of shades – think the moody turquoises of the fifties or pick a complementary colour spectrum moving from yellow brights through to soft plums for an impressive collection to show.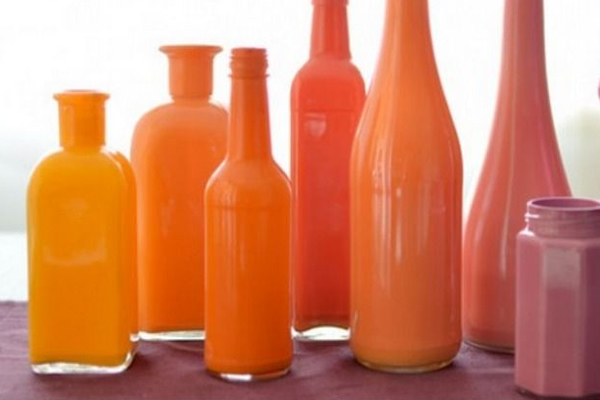 Image source (colourful jars): https://www.pinterest.com/pin/494833077785164295/
CREATE YOUR OWN PATTERNS AND UNIQUE TOUCHES
Using nothing but tape and or stickers, you can create an incredible array of patterns painting the inside or outside of your objects. Tape can be using to create horizontal or vertical stripes, while stickers can give you spots, squares and more… Simply tape (or sticker) your glass vessel in your chosen pattern, paint the surface where you've place the tape and once dry – peel off the pattern elements leaving the unpainted surface. Applying elastic or rubber bands and spray-painting over them is another great idea. Again it's so easy to do; just remove the bands once the paint is dry for a look that's entirely unique to you.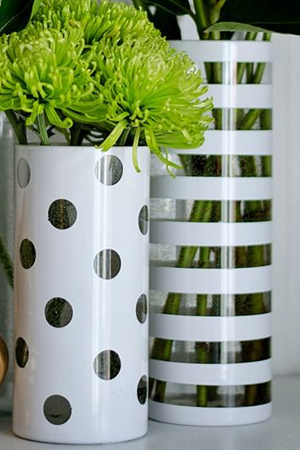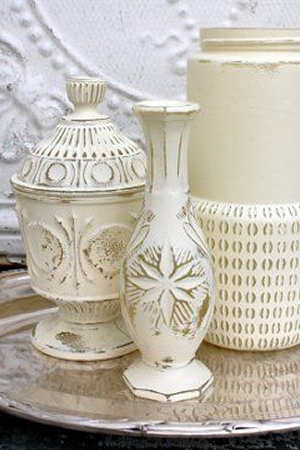 Image source (white dots and stripes): https://www.pinterest.com/pin/293437731943533398/
Image source (antique look): https://www.pinterest.com/pin/136585801173268657/
Or dip you vessel to create a two-toned effect (metallic can look especially good this way). You can even drill holes in your vessel to create bespoke hanging art – ideal for tealight candles or even air plants. And by painting the lids of old jars and adding colourful door knobs, you can create a series of co-ordinated storage jars while being able to see exactly what each one holds – brilliant!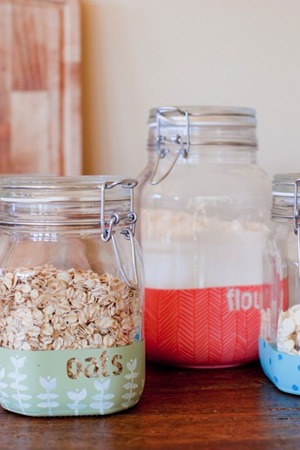 Image source (dipped jars): https://www.pinterest.com/pin/277323289530339398/
Image source (painted jar lids): https://www.pinterest.com/pin/277323289530298016/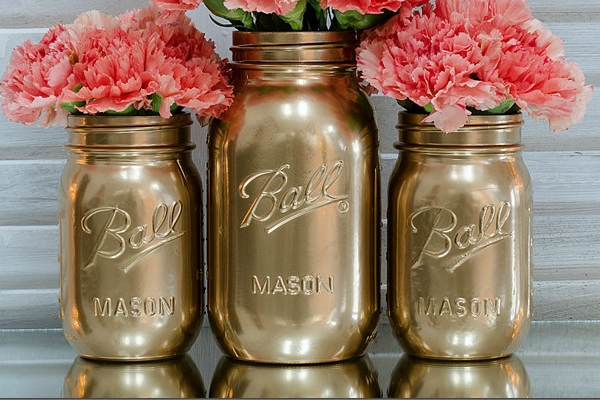 Image source (metallic jars): https://www.pinterest.com/pin/277323289530298007/
GET INSPIRED
For more inspiration, just pop
in-store
and talk to our friendly expert team.