Turning Dreams into Reality
Three lucky winners, three incredible room transformations and a room makeover series that soared in popularity.
As part of our 125 year celebrations, we partnered with popular radio station 'The Hits' and property data and information website One Roof to launch the 'Love Where You Live' room makeover competition. The results? Phenomenal.
With award-winning interior designer Hayley Brown of Lou Brown Design in the driver's seat it's no wonder the room transformations were inspiring. Throughout the process she worked closely with the team at Guthrie Bowron who offered invaluable expertise and quality product ranges.
Hayley used 3D visual boards with 3D imagery to create life-like spatial layouts, and, after receiving the tick of approval from our three lucky winners she set about turning their design dreams into reality.
The bedroom of a little girl's dreams
Eight year old Chloe Pardoe from Cockle Bay in Auckland was stuck in a time warp, she felt her bedroom was too babyish and far too small. After planning to redecorate with the help of her grandad who was a painter and decorator, he sadly passed away before they were able to get started. We thought Chloe was extremely deserving of a new look bedroom so Hayley and the team at Guthrie Bowron stepped in.
Originally a cramped and narrow room, designer Hayley's biggest challenge was the size of Chloe's bedroom. Top of the priority list was rethinking storage ideas and adding more functionality to the furnishings. Hayley also considered Chloe's age, the goal was to achieve a decorating balance that would see Chloe through to her teenage years.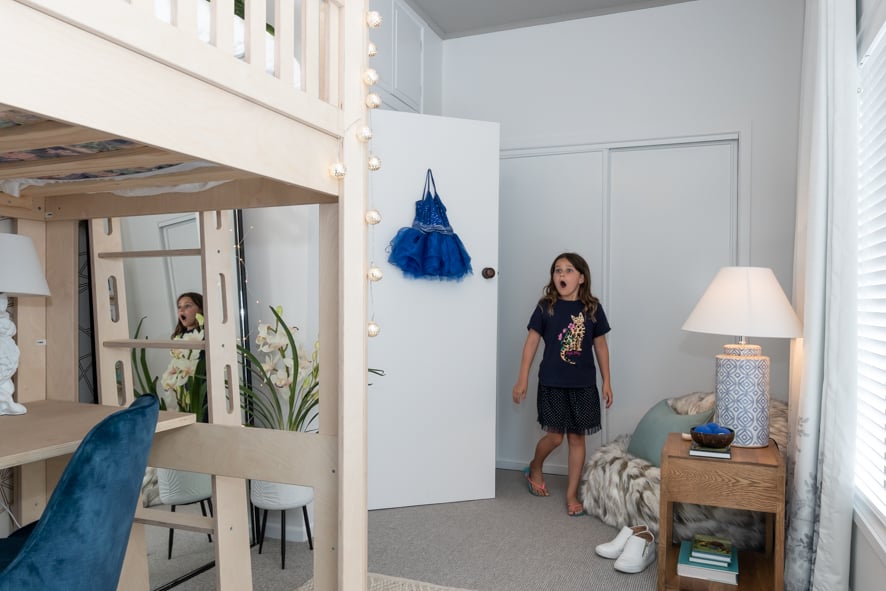 By weaving her magic Hayley crafted a dream room that is stylish, but not too sophisticated, and gives the illusion of space. Changing the layout of the room with the clever addition of a built-in loft bed making way for a desk to go underneath, a practical and funky solution for anyone contending with a small floor area. The room's original flooring was replaced by a warm-toned 100% wool carpet by Bremworth (Lattice, Knot).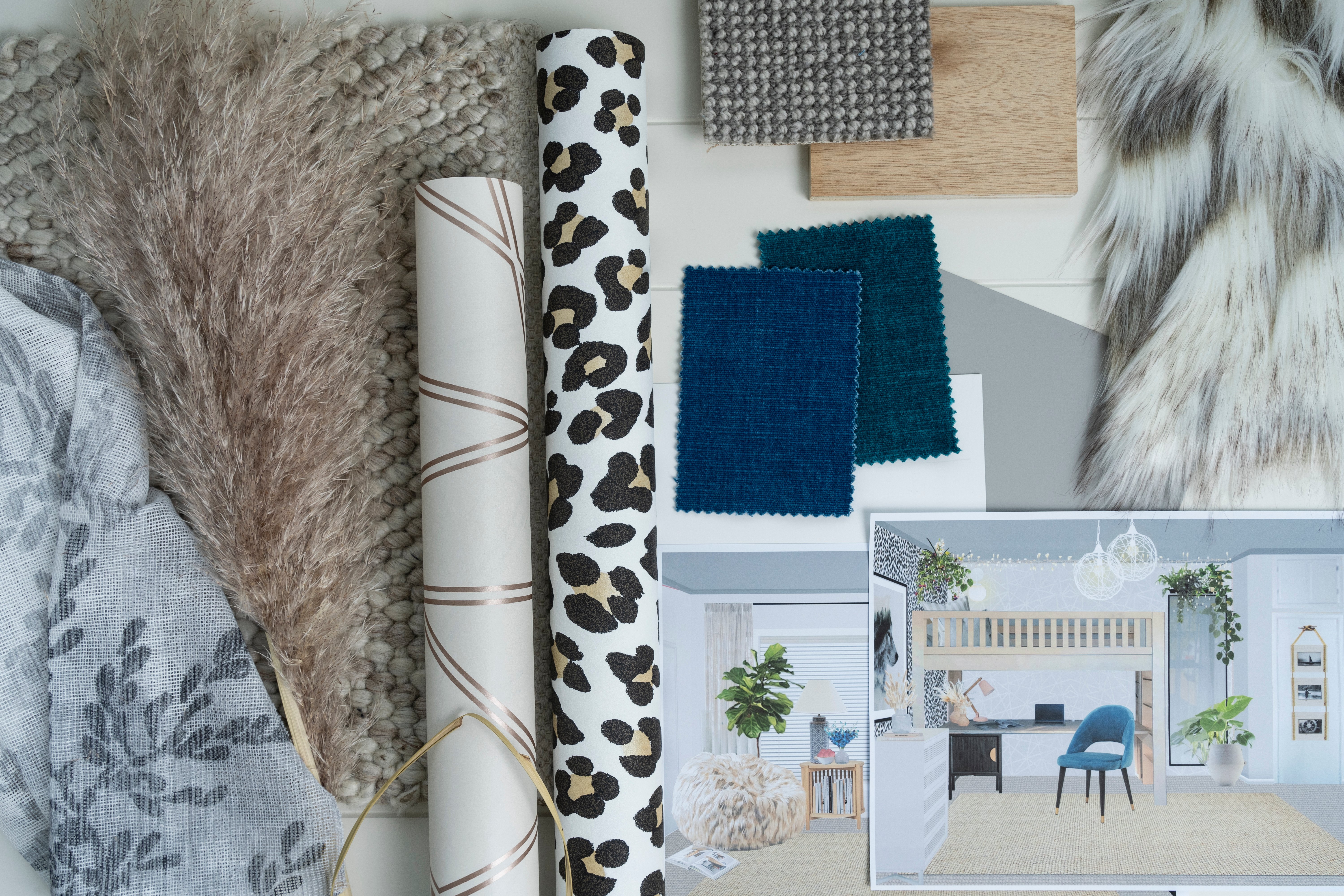 A bold Leopard print wallpaper from the 'Dream Again' collection highlights a feature wall, and Luxaflex Woodmates Venetian blinds in 'Snow White' dress the large window. These elements along with the combination of different lighting techniques have all resulted in one spectacular girls bedroom. Sleepovers at Chloe's will now be this year's hottest ticket.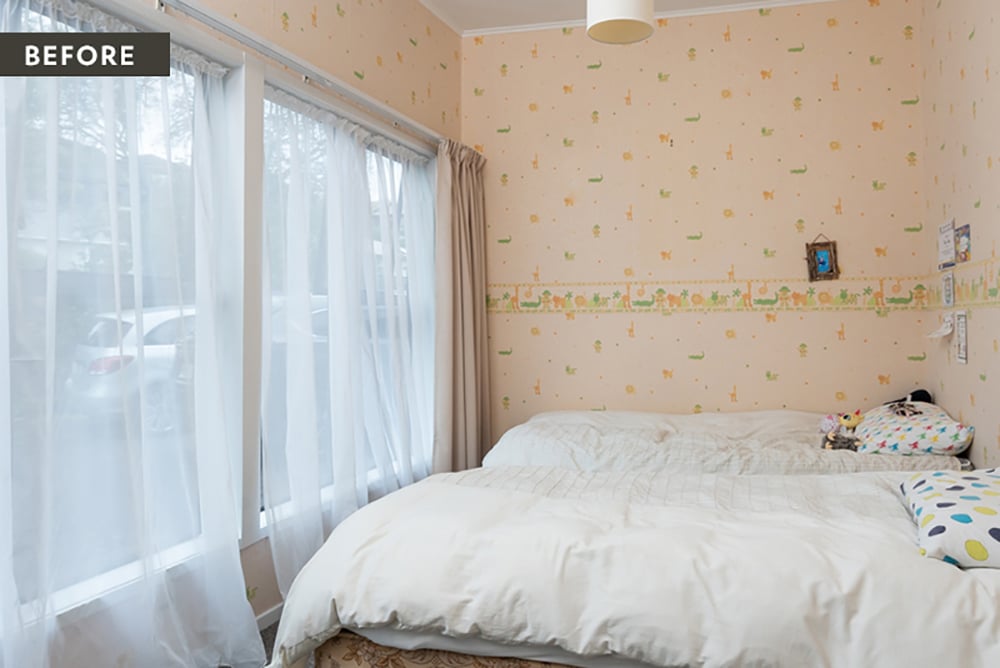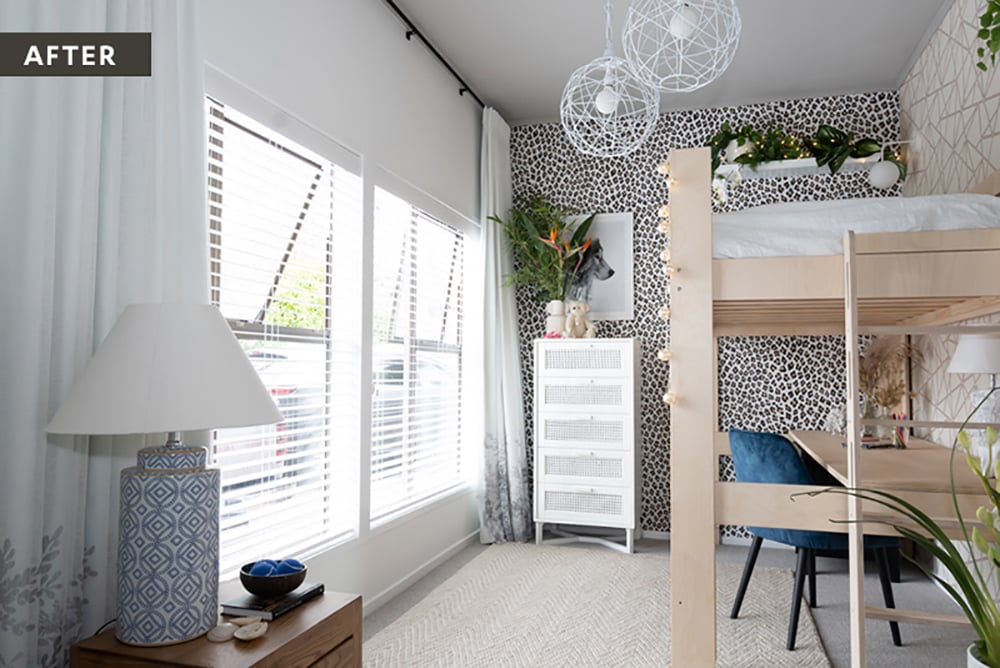 Top tips for decorating - Create a Connection
For your child's room choose interior elements to represent their story and who they are.
Think about their interests, what they love, who they love and what makes them special. How can these important moments be reflected in the decor or their room?
Showcase some of their most treasured memories, whether it be fishing with grandad, camping with the family or playing a sport they love.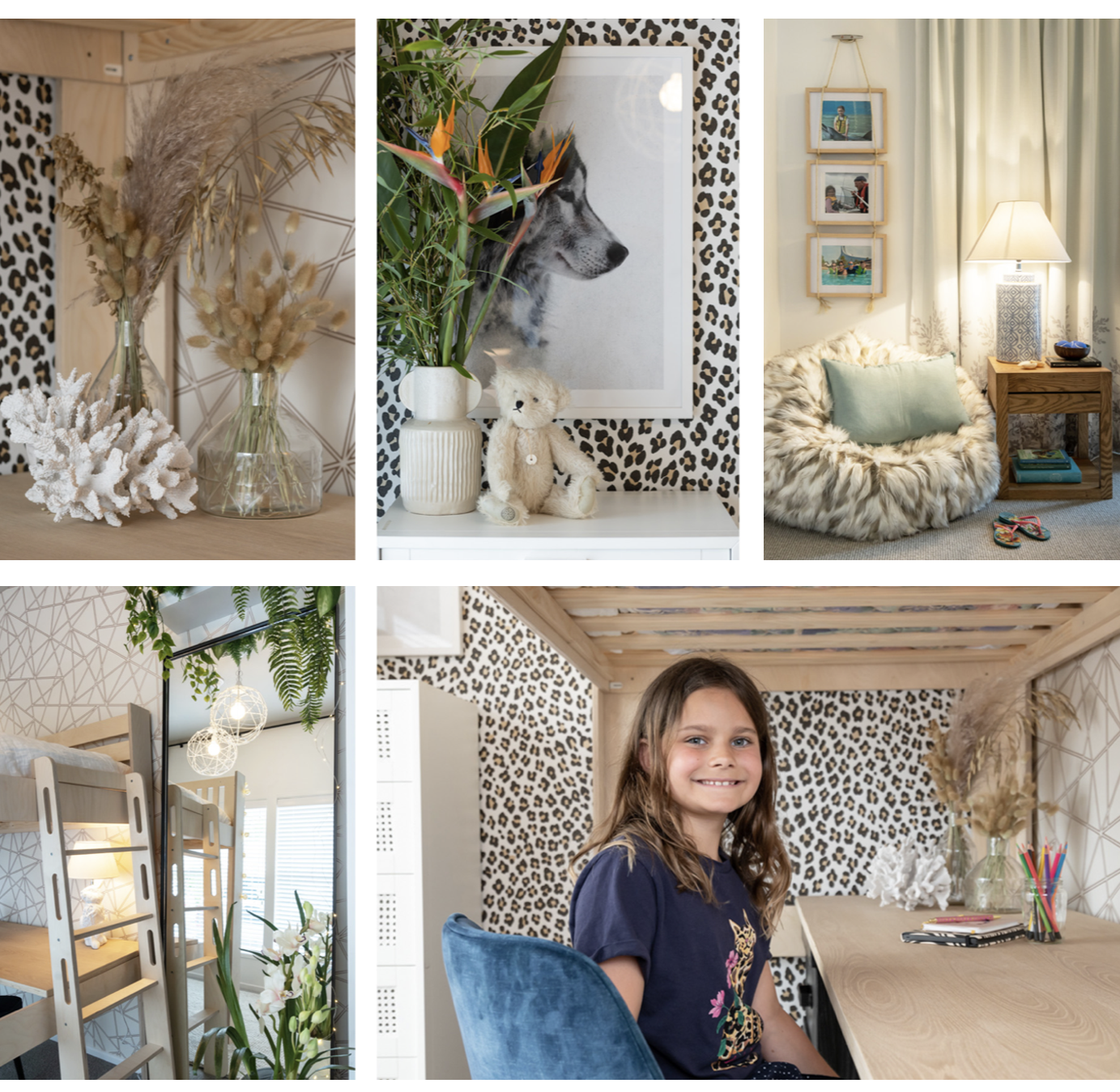 From the cowshed to a successful beauty business
Previously self-employed dairy farmers, Lynette Fray from Taranaki and her partner, swapped the long hours and tough workload of farming life to buy their first home and follow their individual passions. Lynette trained in nail artistry and, already being a makeup artist, the decision to establish a new nails and beauty business was a natural choice.

The obvious solution to use the spare bedroom to operate the business came with its downside. Dark and disorganised the room was in desperate need of an expert makeover to create the elegant, luxurious, and calming atmosphere Lynette wanted her clients to enjoy every time they visited.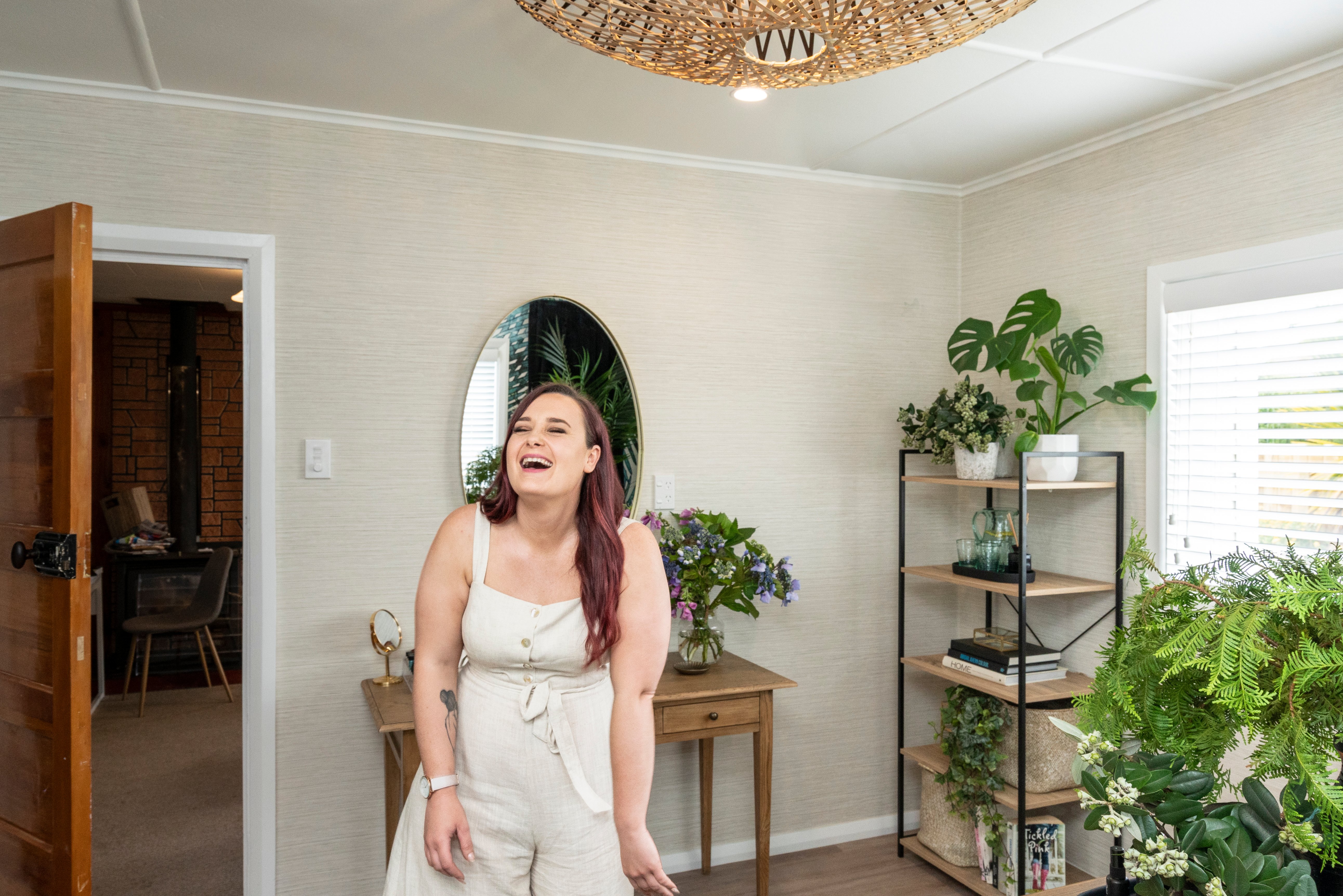 The success of Lynette's beauty room makeover was due in part to the clever and efficient storage solutions devised by designer Hayley. Now featuring a workable uncluttered space and reconfigured layout, positioning Lynette's welcome desk in the middle of the room, Lynette can keep both the space tidy and organised while carrying out her daily tasks.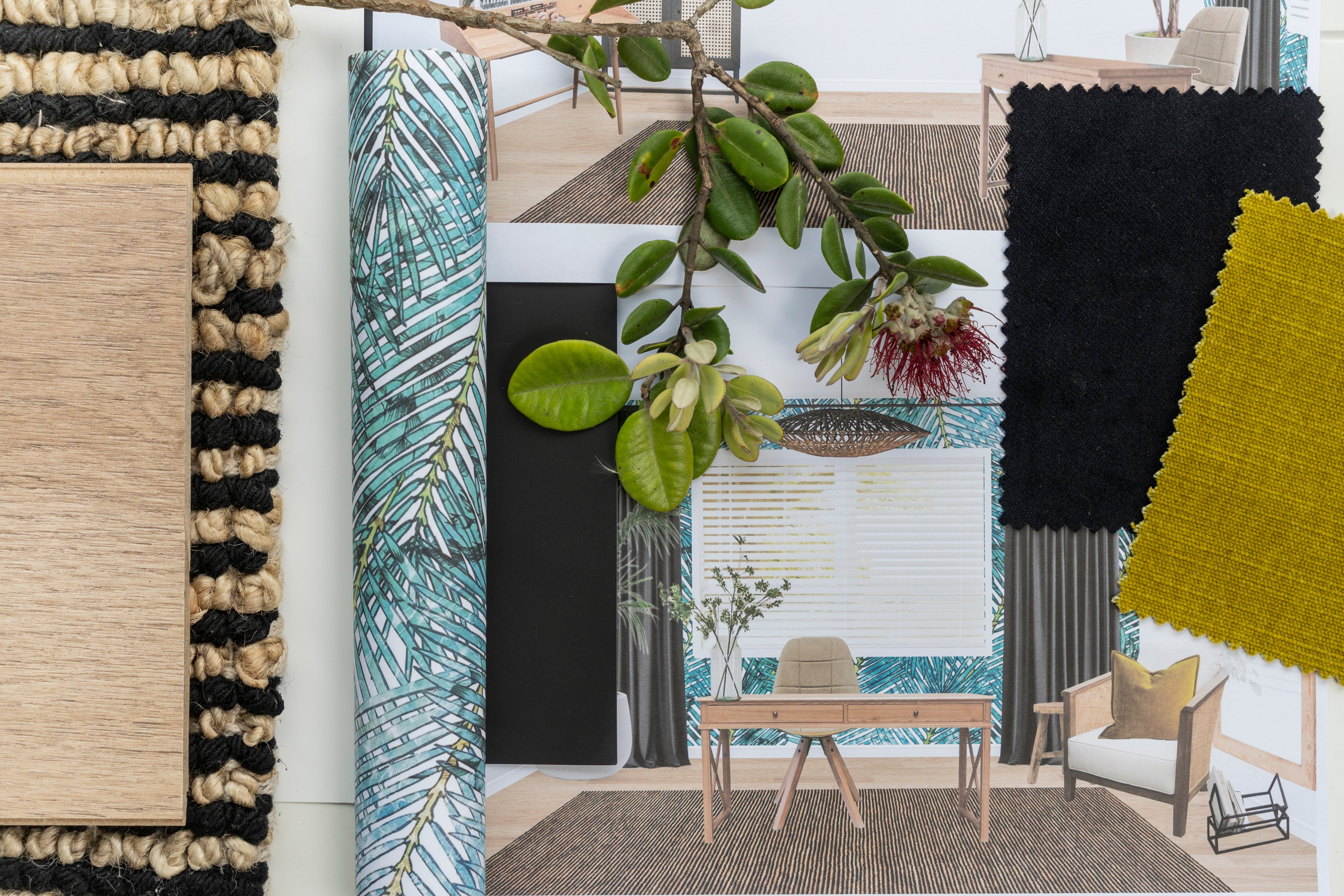 The placement of an oversized rattan light shade, and striking black velvet drapes custom-made by Guthrie Bowron in Warwick Fabrics 'Cleo' inject a much needed atmosphere of sophisticated glamour.
Complementing Lynette's love of the outdoors, natural accents come in the form of wooden look flooring MiPlank vinyl plank flooring in colour 'Sun Bleached Ash' and a Lisbon rug, in colour 'Onyx', by Weave. Hayley installed an eye-catching leafy feature wall mural from the 'Komar Pure' collection (P025-VD2) to complete the look.
Lynette's new beauty room is super-gorgeous and it's already a local sensation – "I have clients booked in every day - even on weekends!"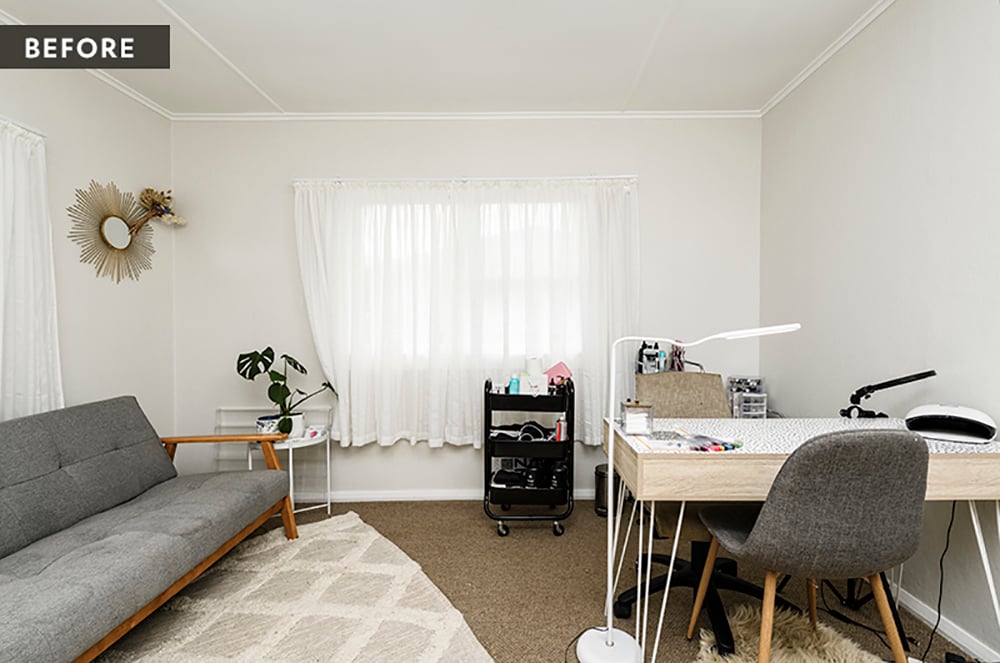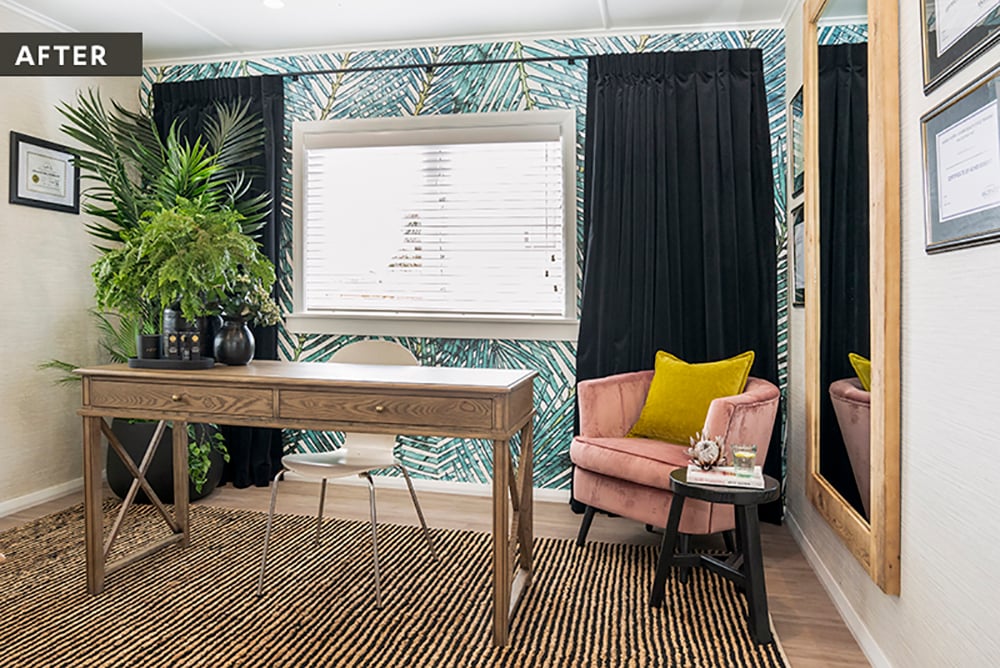 Top tips for decorating - Avoid Clutter
It doesn't matter what renovations/improvements you do in a room, if it's cluttered it won't look good!
If you have open shelving, add baskets (non-transparent) so you can store things away out of sight.
Try to find multi-functional furniture such as chests, suitcases and pots, which can work great as a coffee table or side table but also have lots of storage potential.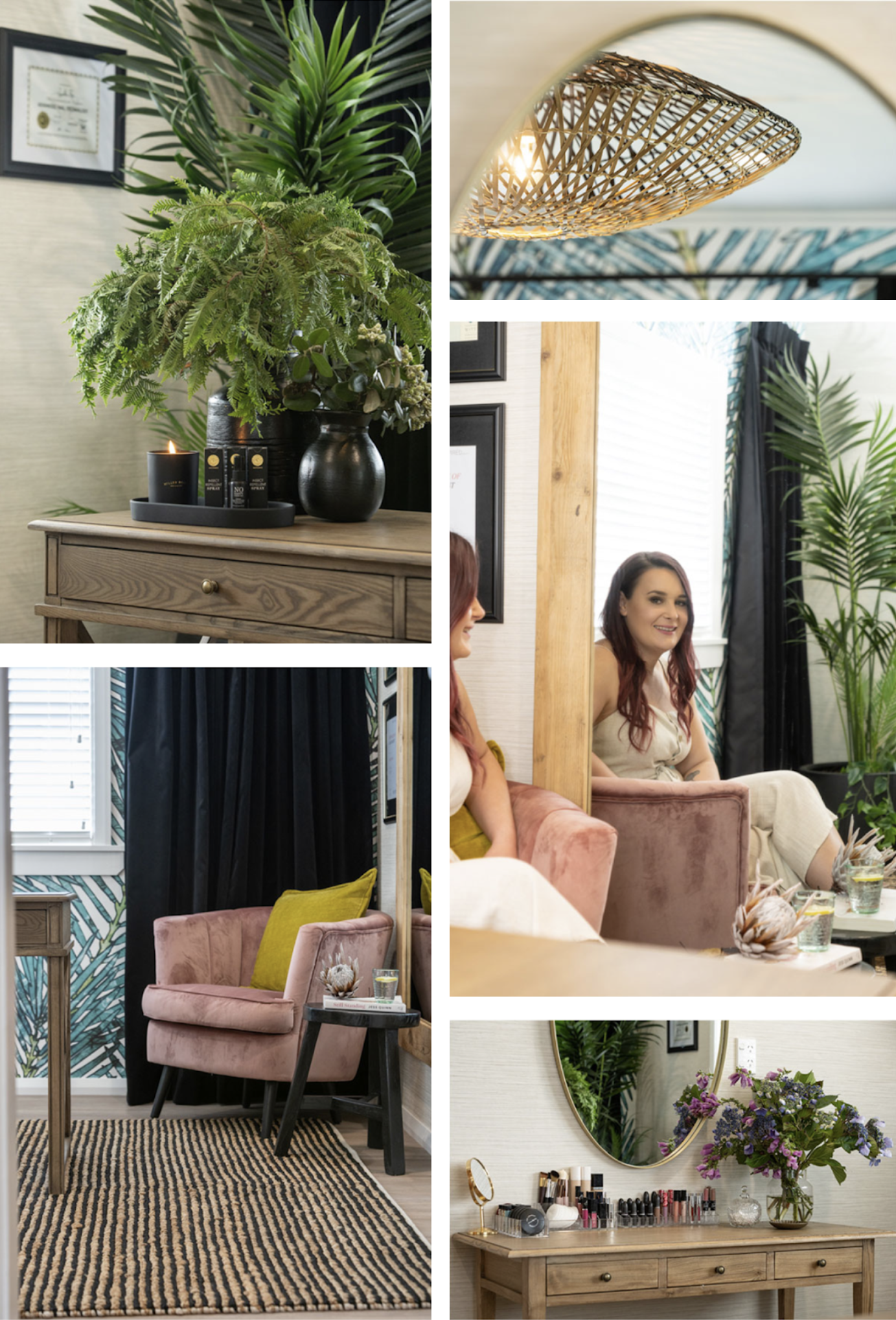 A sun-soaked secret hideaway
Heather Dixon from Palmerston North is the proud owner of her first home, one that she hopes will be her forever home. Built in the 1930's, the house retains much of that era's distinctive personality and while Heather envisions making over the whole house there was one particular room she needed the professionals for.
The spare guest room, featuring dominating red walls and a complete lack of storage, common in many New Zealand homes, made the already smallish room feel even smaller. Hayley was tasked with finding ways to store the clutter in a stylish way and most importantly replacing the red with a more neutral tone and relaxing coastal vibe!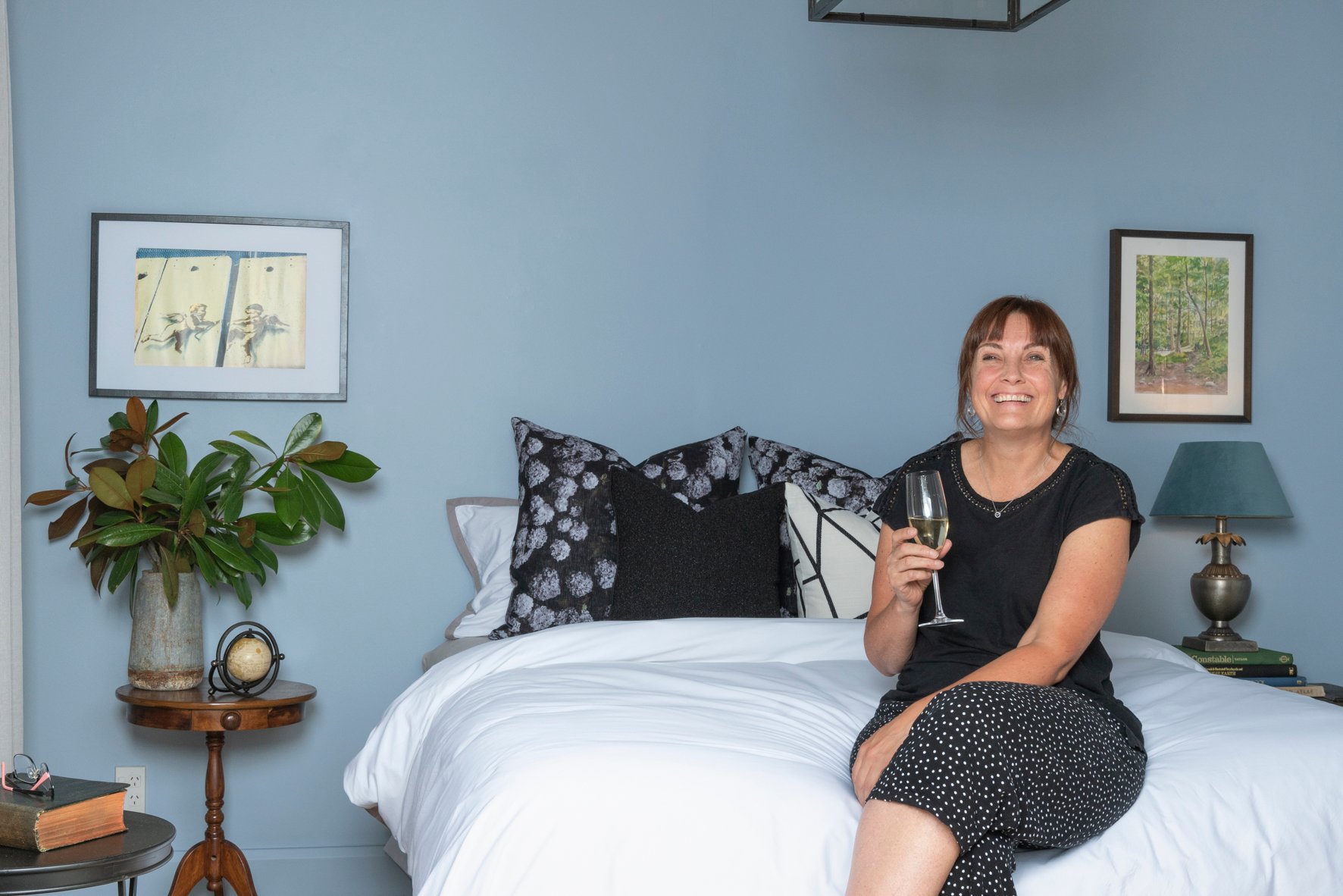 The clever use of blending nature-inspired elements transforms this once dark and disorganised area into an airy and tranquil space. Dulux Wash & Wear in 'Port Fitzroy' was chosen for the walls, a delicate blue tone that's restful and calming and the low-sheen finish serves to enhance its gentle and serene qualities. A delicate silver floral-patterned wallpaper used on the ceiling was chosen to bring 'the outside in' ('Glasshouse' collection - pattern number, GLA903).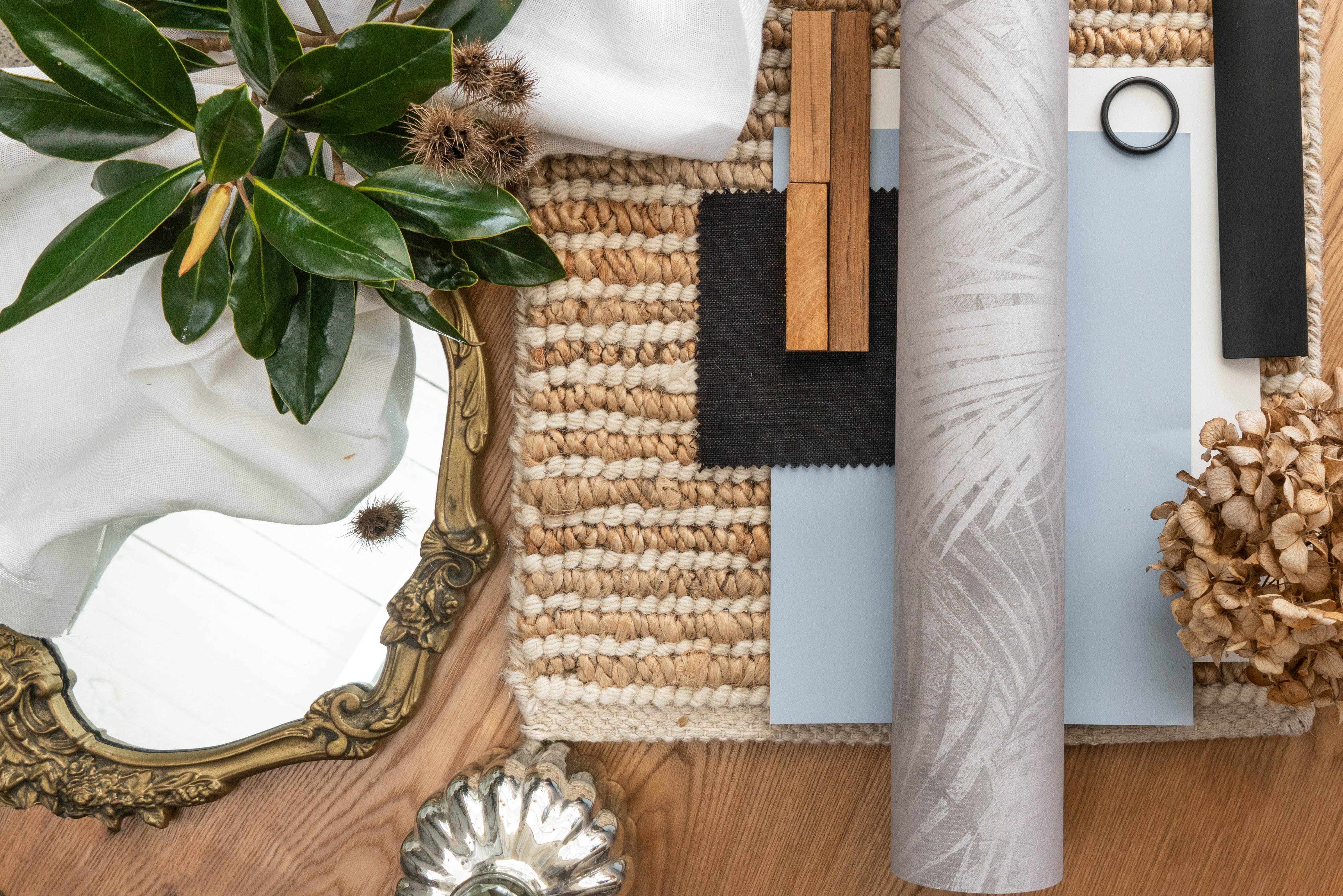 A luxurious 5-star hotel feel was perfected through the use of Custom-made Roman Blinds adorning the French doors and gorgeous luxury Kinship Euro pillowcases used to style the bed. A plush, over-sized, velvet chair provides Heather with a serene spot to relax and read, while enjoying a cup of tea.
Heather was so delighted with the makeover that she plans to continue the central themes of Hayley's design throughout the rest of her home.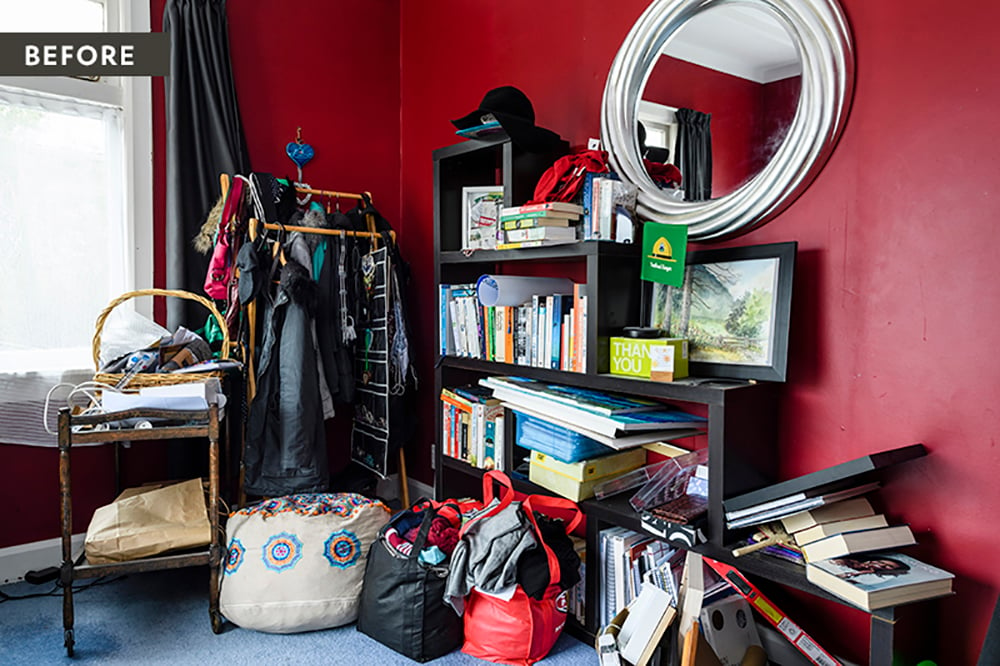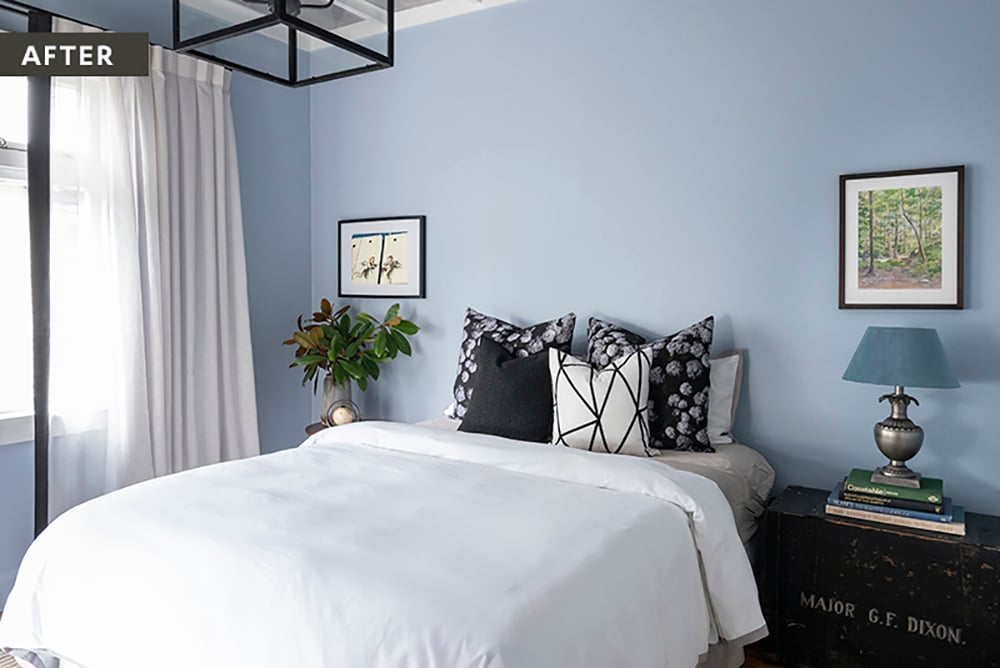 Top Tips for decorating - Balance the Room
An often-forgotten area in a home's interior is the top half of the space.
To instantly balance the space here are some quick ways to add weight above:
Use a paint colour, other than white - or even wallpaper the ceiling.
Large pendant, track lighting or grouping of lights will draw the eye upwards.
Furnishings that are partially positioned within that top half of the space i.e. tall mirrors, large artworks, tall plants, black curtain rods and other bold elements also serve to help add balance.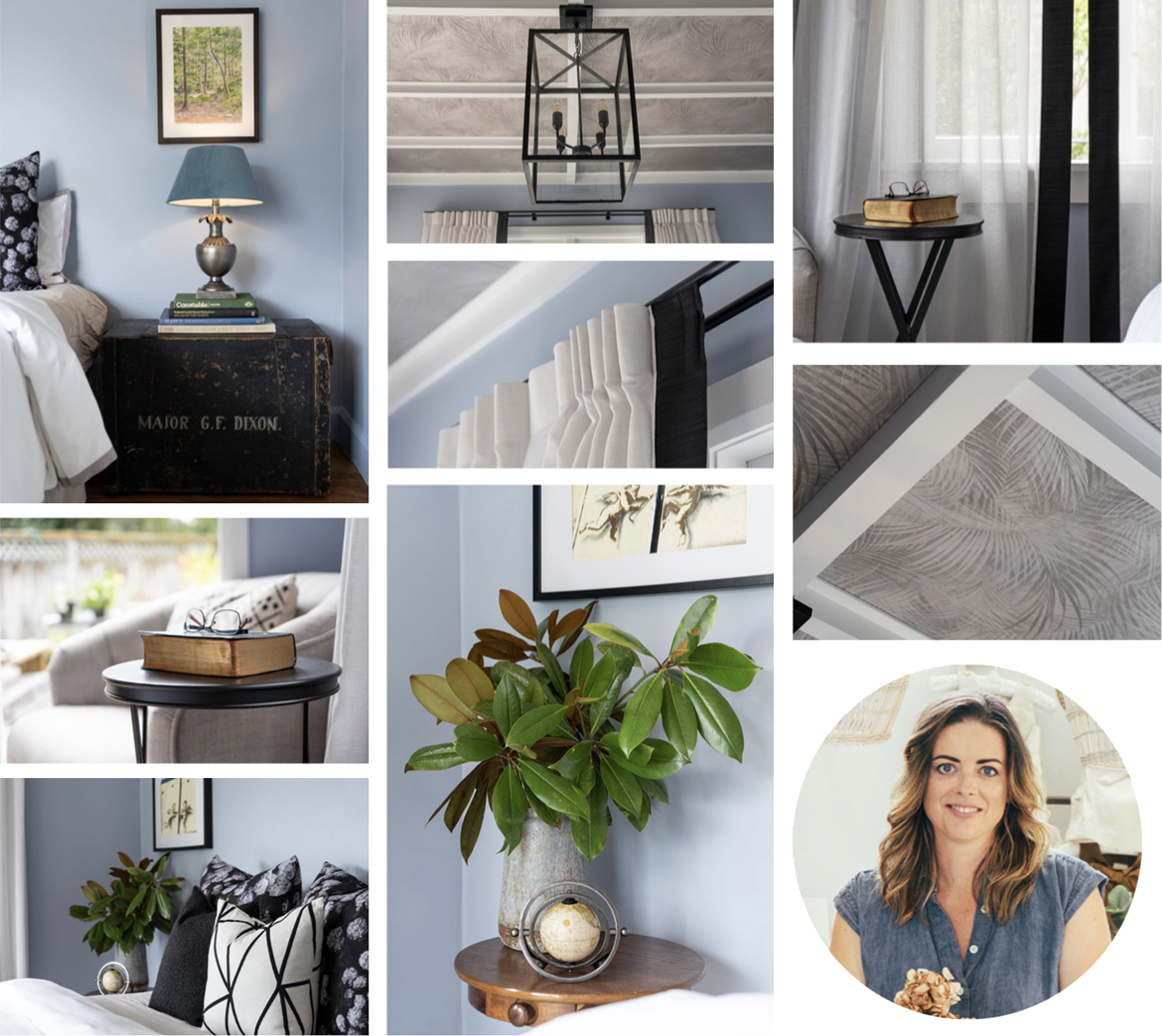 If, like Heather, you're planning to tackle your own home room makeover look no further than your local Guthrie Bowron store, they're a one stop shop for paint, wallpaper, flooring, curtains, and blinds.
Our expert team can help your decorating experience be as easy and straightforward as possible, they can help arrange flooring and window furnishings installation, and can provide suggested tradespeople for wallpaper installation and painting.
Article by:
Guthrie Bowron
Original articles were posted on Oneroof.co.nz